Description
A500 Aluminum Tempered Glass Edition Mid Tower Chassis
Mid-tower case with two tempered glass panels and three pre-installed 120mm fans, supporting motherboards up to ATX.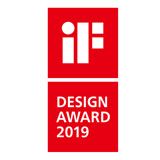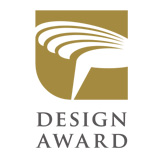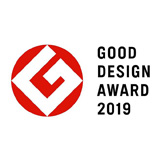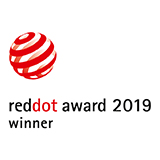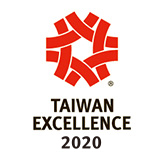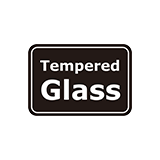 Thermaltake A500 Aluminum Tempered Glass Edition mid-tower chassis features a sleek aluminum front panel, two 4mm tempered glass panels, two pre-installed 120mm front fans and a 120mm rear fan for optimal system ventilation. It has a built-in power supply cover for clean and easy cable management and also supports up to a standard ATX motherboard. Accommodating the latest PC hardware including the most advanced graphic cards and air/liquid cooling solutions, the A500 Aluminum TG is designed for those who are looking for a chassis with outstanding thermal performance that is further complemented by a clean and simply designed case.
*The image is for reference only.
*Two 120mm front fans and one 120mm rear fan are included.

Tool-Free Installation
The A500 Aluminum TG comes with tool-free drive cages to provide the ease of installation/removal of backup drives. Fully maximize the interior space for highly customizable layouts, users get to mount up to four 3.5"/2.5" HDD inside the left side panel or on top of the PSU cover.

3.5" or 2.5" HDD Drive Compatible
Superior Hardware Support
The A500 Aluminum TG has outstanding expandability, with support for a CPU cooler with a maximum height of 160mm, combined with a dual expansion slot VGA of up to 420mm in length without an HDD rack, as well as a power supply with a length of up to 220mm. Moreover, the hidden drive bay design guarantees expandability for even more liquid cooling configurations.

※Suggested VGA thickness up to 40mm(2-slot reference card standard) with 7mm space for ventilation if extending for VGA card.
Excellent Cooling Capability
Preinstalled with three 120mm fans for optimal cooling performance, this case can house up to three 140mm front fans, two 140mm or three 120mm fans on the top and a radiator size up to 420mm. This allows the user at the same time to build a complete high-end system to suit their needs.
*The image is for reference only.
*Two 120mm front fans and one 120mm rear fan are included.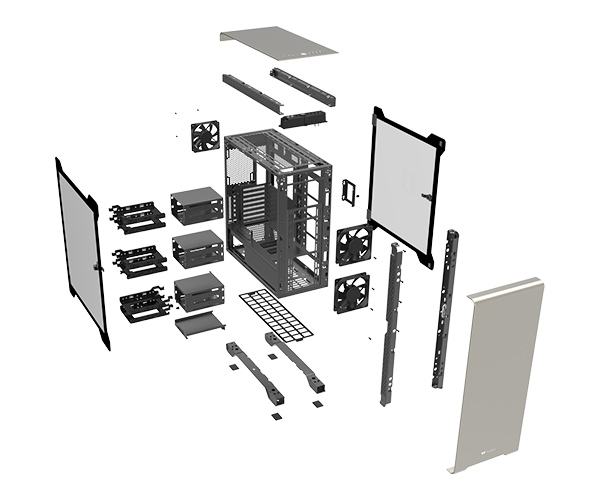 Radiator Supporting List
Radiator Compatibility List
120
mm
240
mm
360
mm
140
mm
280
mm
420
mm
Front
*
*
*
*
*
*
Top
*
*
*
*
*
 
Rear
*
 
 
 
 
 
All-in-One Compatibility List
(Water 3.0 and Floe series)
Performer
Pro
Extreme
Ultimate
140 Series
280 Series
Front
-
-
-
-
-
-
Top
*
*
*
*
*
*
Rear
*
*
-
-
-
-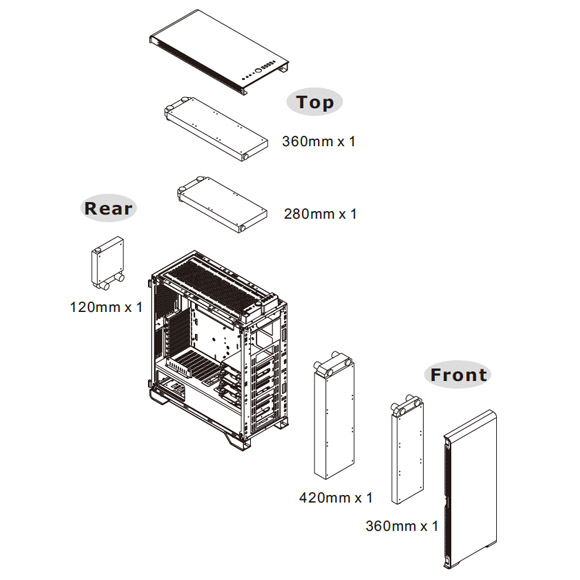 Fan Supporting List
Fan Compatibility List
120mm
140mm
200mm
Front
3
3
-
Top
3
2
-
Rear
1
-
-
Thermaltake Compatible Fan
120mm
140mm
200mm
Pure Fan Series
*
*
-
Luna Fan Series
*
*
-
Riing Fan Series
*
*
-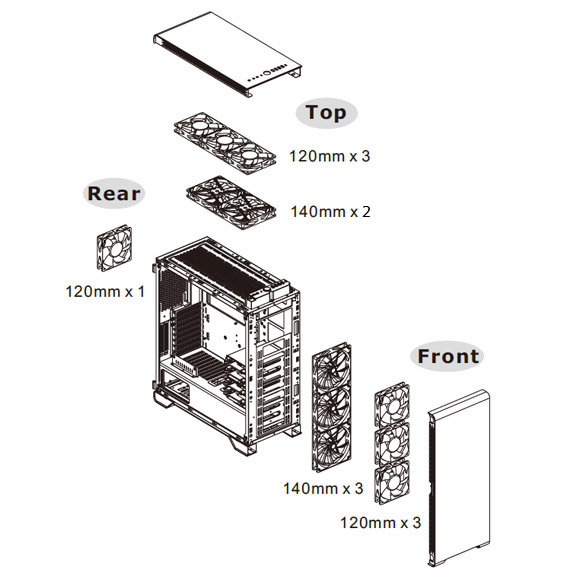 Specifications
General
P/N
CA-1L3-00M9WN-00
SERIES
A Series
MODEL
A500 Aluminum TG
CASE TYPE
Mid Tower
DIMENSION (H X W X D)
560 x 236 x 510 mm
(22 x 9.3 x 20.1 inch)

NET WEIGHT
14.82 kg / 32.67 lb
SIDE PANEL
4mm Tempered Glass x 2 (Left & Right)
COLOR
Exterior: Space Gray; Interior : Black
MATERIAL
Aluminum & SPCC
COOLING SYSTEM
Front (intake) :
120 x 120 x 25 mm fan (1000rpm, 22dBA) x 2
Rear (exhaust) :
120 x 120 x 25 mm fan (1000rpm, 22dBA) x 1

DRIVE BAYS
-ACCESSIBLE
-HIDDEN
EXPANSION SLOTS
8 + 2
MOTHERBOARDS
6.7" x 6.7" (Mini ITX), 9.6" x 9.6" (Micro ATX), 12" x 9.6" (ATX)
I/O PORT
USB 3.0 x 2, USB 2.0 x 2, HD Audio x 1, Type-C x 1
PSU
Standard PS2 PSU (optional)
FAN SUPPORT
Front:
3 x 120mm , 3 x 140mm
Top:
3 x 120mm , 2 x 140mm
Rear:
1 x 120mm

RADIATOR SUPPORT
Front:
1 x 360mm , 1 x 420mm
Top:
1 x 360mm , 1 x 280mm
Rear:
1 x 120mm

CLEARANCE
CPU cooler height limitation: 160mm
VGA length limitation: 295mm(with HDD rack)
420mm(without HDD rack)
※Suggested VGA thickness up to 40mm(2-slot reference card standard) with 7mm space for ventilation if extending for VGA card.

PSU length limitation: 220mm