Description
XPG GAMMIX S50 PCIE GEN4X4 M.2 2280 SOLID STATE DRIVE
THE FUTURE OF PCIe IS HERE
● Leap into the Future with PCIe 4.0
● Divine Efficiency
● Don't Take the Heat
● Pursuit of Efficiency
● 3D NAND Flash - Higher Capacity, Efficiency, and Reliability
● Data Integrity and Security
● Backed by a 5-Year Warranty
Utilizing PCIe Gen4x4 and implementing the NVMe 1.3 standard, the GAMMIX S50 solid state drive delivers blazing-fast read/write performance of 5000/4400MB per second. What's more, it features an aluminum heat sink for excellent heat dissipation, 3D Flash memory with up to 2TB capacity, SLC caching, a DRAM cache buffer, End-to-End Data Protection, and low-density parity-check (LDPC) error correcting code technology.
Leap into the Future with PCIe 4.0
Sporting the latest PCIe Gen4x4 interface, the S50 offers sustained read/write speeds of up to 5000 /4400MB1 per second, making it nearly ten times faster than a SATA SSD, and is fully compatible with PCIe 3.0.

1 This product is compatible with Intel and AMD platforms, and works in conjunction with PCIe 4.0 motherboards to achieve this performance. Actual performance may vary depending on software and hardware configurations.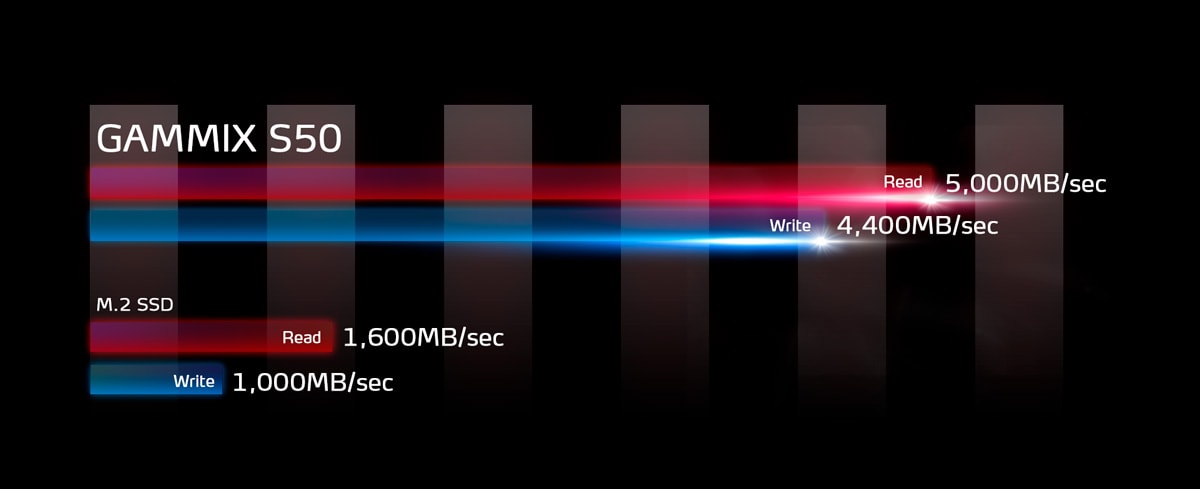 Divine Efficiency
● Supports NVMe 1.3
● Next-generation 3D Flash : Higher capacity, power efficiency, and enhanced durability
● M.2 2280 form factor : supports PCIe 4.0
● Built for pros : ideal for gamers, PC enthusiasts, overclockers, and video rendering professionals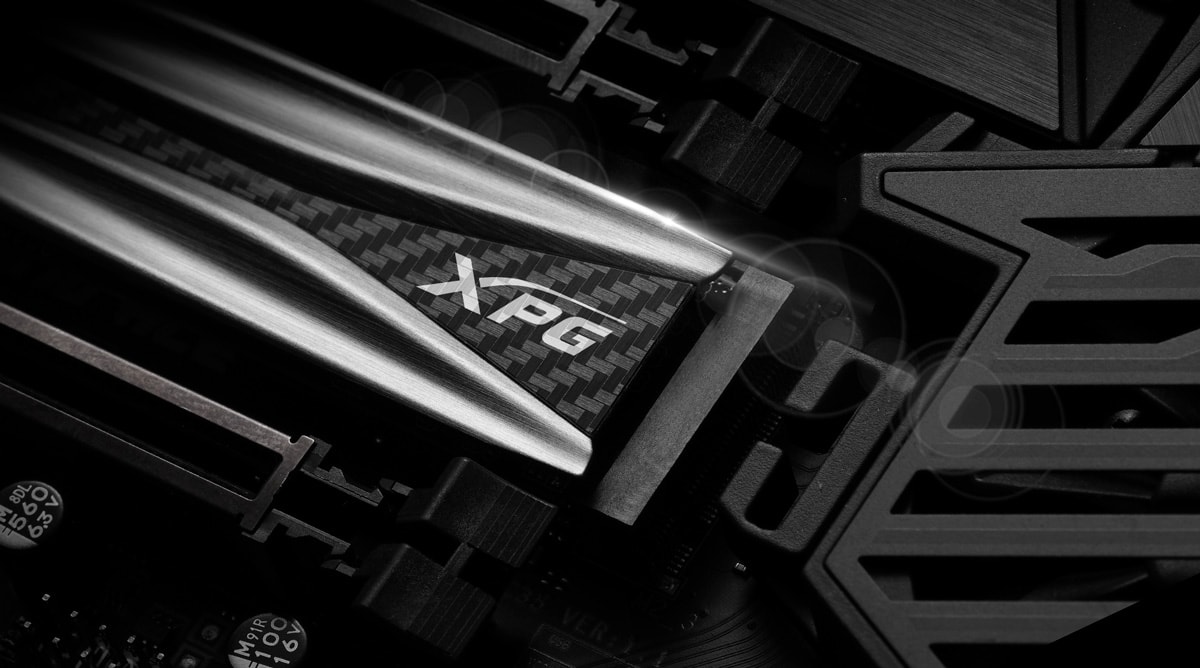 Don't Take the Heat
The S50 stays cool in any fire fight thanks to its aluminum heat sink. The heat sink can reduce temperatures by up to 10 degrees for ultimate stability. Not only does it keep the S50 cool, it also look cools with its sports-car-inspired design.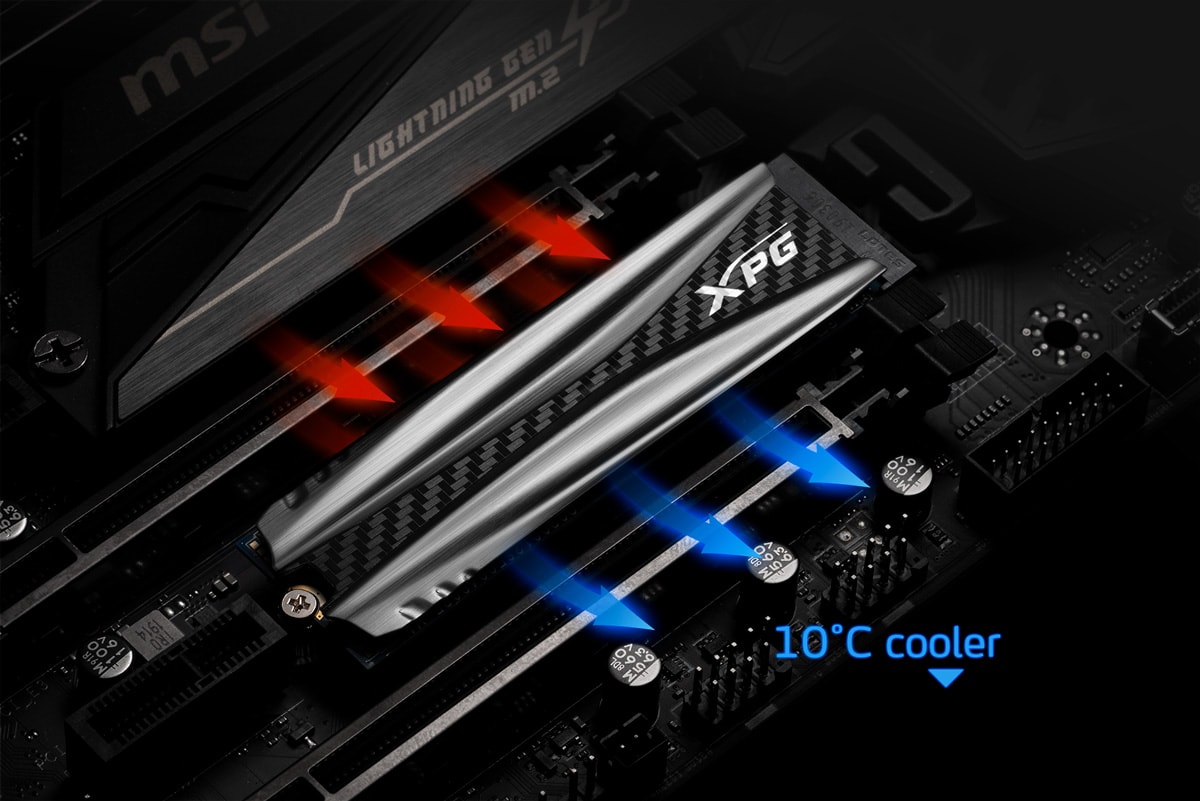 Pursuit of Efficiency
The S50 is equipped with SLC caching, a DRAM cache buffer, and features sustained read/write speeds of up to 5000/4400MB per second, random read/write speed of up to 750K/750K IOPS.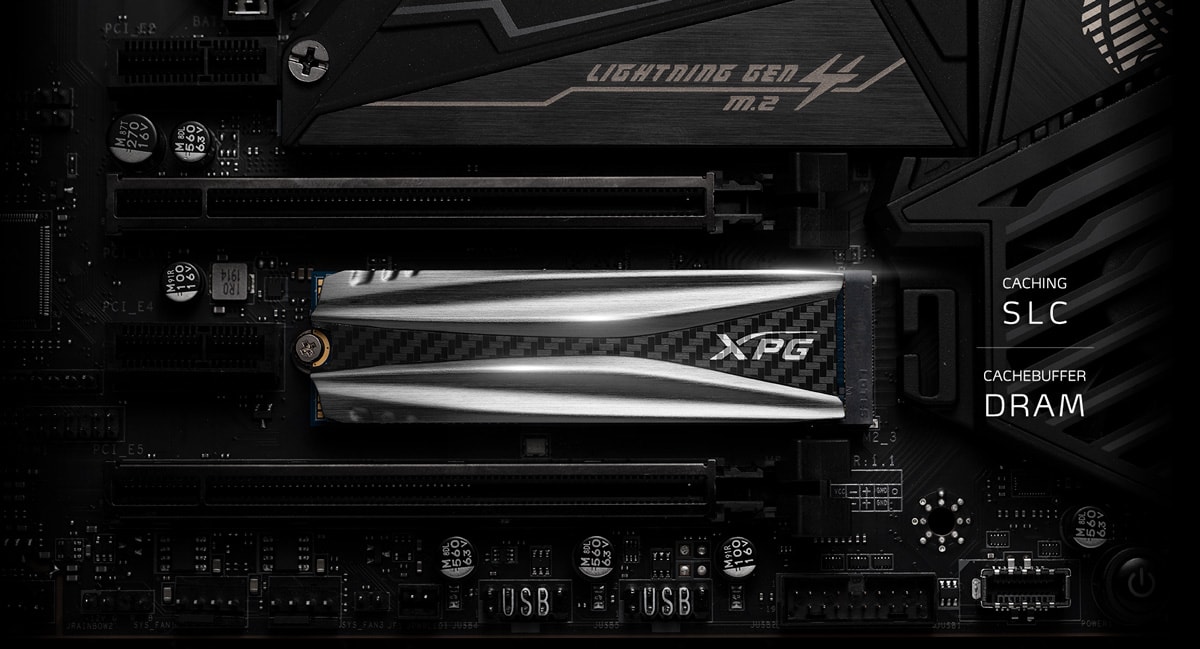 3D NAND Flash - Higher Capacity, Efficiency, and Reliability
Built with 3D NAND Flash theS50 comes in capacities of up to 2TB, offers higher efficiency, and is more reliable than 2D SSDs. Thanks to the support of data protection technologies, it also features a high TBW and excellent durability to meet the demands of various applications.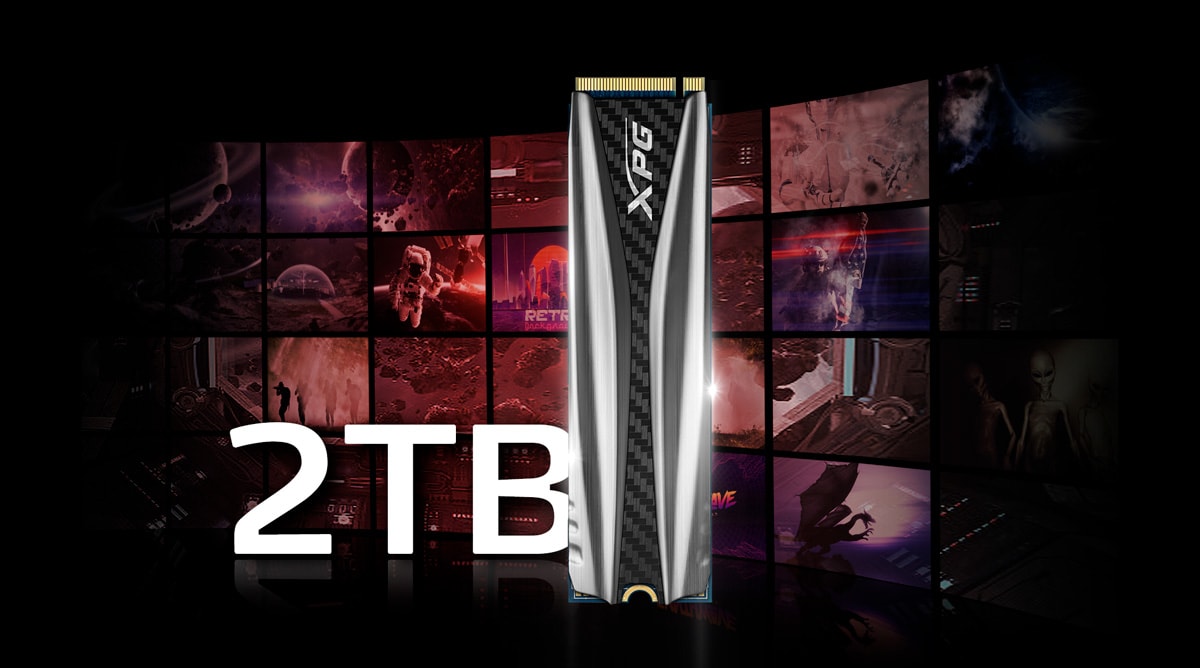 Data Integrity and Security
The S50 supports LDPC (Low-Density Parity-Check) error correcting code technology to detect and fix a wider range of data errors for more accurate data transfers and a longer SSD lifespan. Meanwhile, with E2E (End-to-End) Data Protection and RAID Engine, the S50 ensures data security, integrity, and a long SDD lifespan.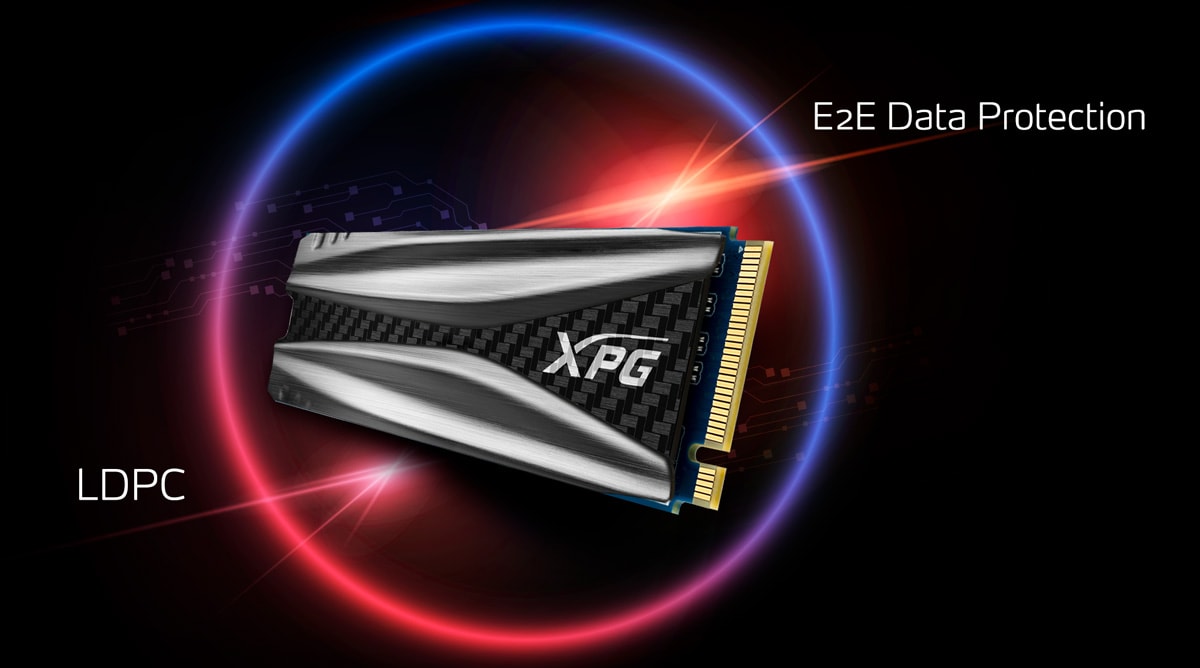 Backed by a 5-Year Warranty
Every component on the S50 has passed meticulous screening, testing, and certification. What's more, it comes backed by a 5-year warranty.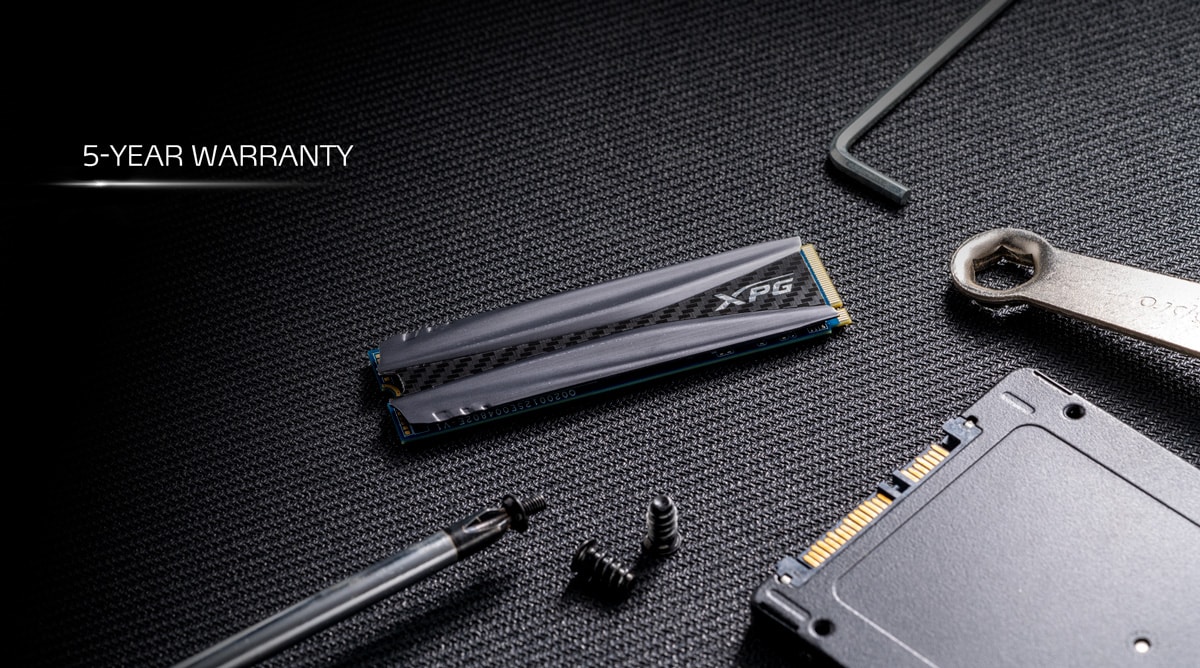 Capacity
1TB / 2TB
Color
Gray
Form Factor
M.2 2280
NAND Flash
3D TLC
Dimensions (L x W x H)
80 x 22 x 6.1mm / 3.15 x 0.87 x 0.24inch
Weight
12g / 0.42oz 
Interface
PCIe Gen4x4 
Performance (Max)
Read 5000MB/s, Write 4400MB/s
Maximum 4K random read / write IOPS : 750K/750K IOPS
* Performance may vary based on SSD capacity, host hardware and software, operating system, and other system variables.

Operating temperature
0°C - 70°C 
Storage temperature
-40°C - 85°C 
Shock resistance
1500G/0.5ms 
MTBF
1,700,000 hours
Warranty
5-year limited warranty


* The SSD is based on the 

TBW

 or Warranty period.




** Visit 

www.xpg.com/en/prowar/

 for more details.



Note
1. Test system configuration : Intel Gen3 Z270 + PLDA Gen4 switch.
2. This product is compatible with the latest Intel and AMD platforms and must be used with a motherboard that supports PCIe 4.0 to achieve optimal performance. Actual performance may vary depending on the hardware and software configurations.
3. This product is backward compatible with PCIe 3.0. If a third-generation PCIe motherboard is used, this product will be able to achieve sequential read/write speeds of 3400/3000MB per second.
Payment & Security
Your payment information is processed securely. We do not store credit card details nor have access to your credit card information.